Airlock
Version Introduced
Alpha 1
Minimum Useful Size
3x2
The Airlock is one of the essential rooms. It lets your citizens enter and leave your base without asphyxiating. Once a citizen is in it takes several seconds before another may enter.
Requirements
[
]
It requires at least two Airlock Doors (one outer and one inner door), and a Spacesuit Locker. More Spacesuit Lockers may be added for cosmetic purposes but do nothing.
Objects Available
[
]
Notes
[
]
Citizens generally won't prioritize the closest airlock when running low on oxygen. Until this gets changed, building your airlocks far apart often hurts more than it helps.
Unlike other rooms, the Airlock cannot be sealed, and neither can the doors be controlled manually - this can make ejecting hostiles more time consuming, as the room must first be unzoned.
An excellent defense strategy is to build a relatively spacious airlock, primarily placing a significant distance between the entry and exit doors, and placing Wall-Mounted Turrets between the two. Any Raider that attempts to use your airlock will be destroyed before they can even take off their suit at the suit locker.
If a single section of wall is destroyed in combat, the entire airlock will vent to space and become unusable. It is for this reason that it is effective to have a small unzoned room connected between the airlock and the rest of the base that can be quickly converted into an emergency airlock to fix the damage.
Adding a normal door to an airlock will cause the airlock to cease functioning. Both airlock doors then behave as normal doors (able to control them). This can be fixed by removing the normal door.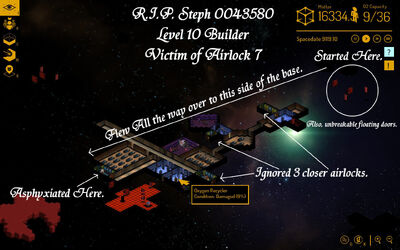 Bugs
[
]
3 Dec 2013 (Alpha 2a): Airlocks take more in-game time to cycle when the game is lagging or set to fast-forward.
3 Dec 2013 (Alpha 2a): Citizens who reach 1:00 oxygen remaining while about to enter the base will cancel that action and attempt to find a different airlock.
15 Nov 2013 (Alpha 2a): Airlock doors are not repaired when part of an assigned Airlock
16 Oct 2013 (Alpha 1): Airlock doors will occasionally be undemolishable
16 Oct 2013 (Alpha 1): Citizens will use airlocks with a hull breach if there are two airlocks